CREO Engineering Solutions have developed a highly adaptable UT scanner. The modular design allows the scanner to be used in various situations. In standard form (as shown opposite) the scanner can produce a fully encoded image of the threads from 1.5/8″ to 3″ studs.  The lower section can be easily removed and replaced with a smaller holder and probe to cover 1″ to 1.1/2″ stud sizes.  The scanner can also be fitted with a switchable magnetic base in place of the probe holder.  In this configuration the legs that would normally be used to locate on the flats of the nut can be easily replaced by a extendable probe holder, alowing the concentric surface to be inspected.  This is ideal for the inspection of solid shafts where there is no central location.
CREO have developed a range of scanning equipment to assist in the Ultrasonic Testing of pipelines. 
Ultrasonic testing is used regularly to inspect pipelines for in-service degradation.  Maintaining probe contact is critical to the inspection and due to the various geometry and ultrasonic set-up configurations, in many circumstances, in order to maintain this requires custom mechanical scanners.
The scanner design maintains alignment of the send/receive probes and allows the scanner rings to be mounted on either side of pipe supports.  Scanning rings are mechanically connected and coupled to an optical encoder to ensure accurate positional data. The design uses a static internal ring giving a smooth operation regardless of the condition on the pipe surface.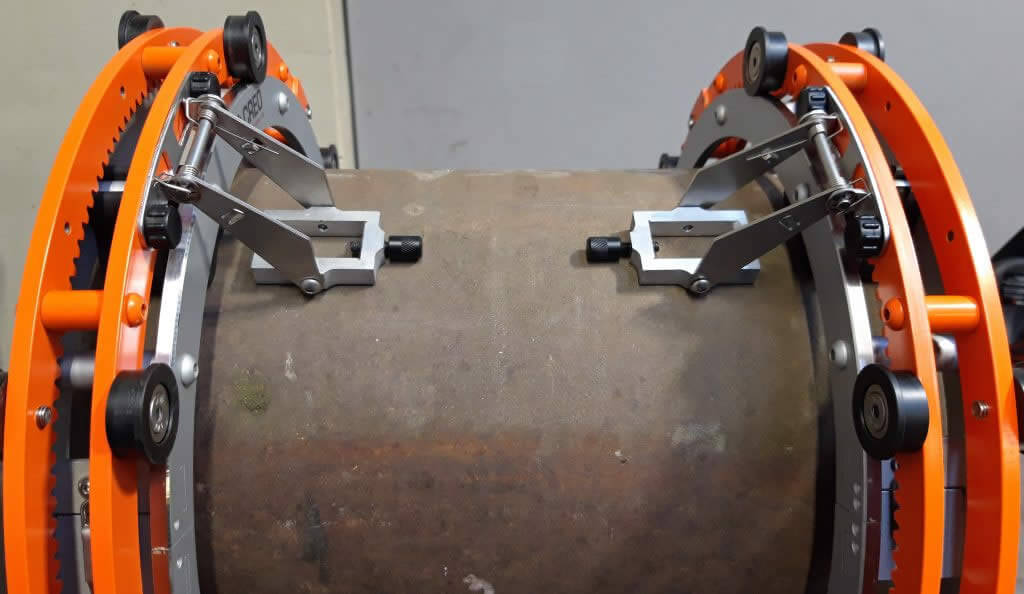 Get in contact with CREO Engineering Solutions
© 2022 CREO Engineering Solutions Ltd | 34 Rutherford, Road, Glenrothes, Fife, KY6 2RT
+44 (0)1592 773300 | sales@creosolutions.co.uk